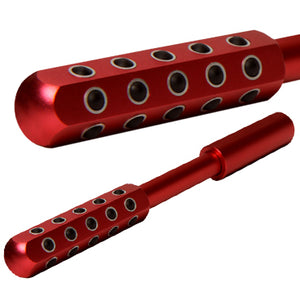 Quantum Tech USA
Roller Massage Wand
Regular price
$ 89.95
$ 0.00
Tax included.
Shipping
calculated at checkout.
The Quantum Tech Roller Massage Wand
Balances the positive and negative ions in the body, energizes skin cells and blood, and reduces fatigue.
This amazing device is the result of an innovative use of semi-conductor technology with Germanium in an award winning Japanese design.
Our 21st century lifestyle exposes our bodies to the harmful effects of positive ions. Positve ions are generated from computers, electrical equipment, mobile phones, as well as chemicals, acid rain, and ultraviolet rays. Exposure to positive ions can break down our immune system, making us more vulnerable to disease, slowing down our metabolism, and causing a build up of waste. This reduces the efficiency of our bodies, causes weight gain, cellulite, and premature aging.
The Quantum Tech Roller Massage Wand combats these problems, by re-balancing the positive and negative ions in your skin and body. The Germanium helps get oxygen into the skin, bringing about increased metabolism and detoxification.
USES:
• For local pain relief and to accelerate healing.
• As a full body treatment for general health.
• As an acupressure tool, to stimulate healing internally.
• To stimulate detoxification of the lymphatic system.
• As an Anti-aging facial massager.
There is no "shelf life" to the potency of the wand. The organic generation of negative ions is an inherent property of the Germanium atoms in the wand.
---
Share this Product
---
More from this collection