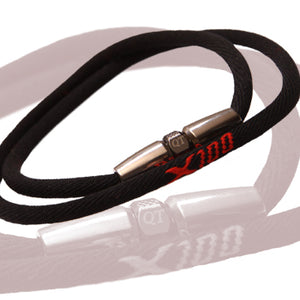 Quantum Tech USA
X-100 Series™ Necklace (Purple silicone cord, silver clasp w/rose gold detail)
Regular price
$ 89.95
$ 0.00
Tax included.
Shipping
calculated at checkout.
Our New, Enhanced X-100 Series™ necklace combines the highest potency Carbonized Titanium, Germanium, and a Magnetic Clasp.

Titanium has been found to significantly accelerate circulation and stimulate nerve endings, encouraging the body's own natural painkillers to release, while the increase in blood flow reduces inflammation and promotes the transfer of oxygen and nutrients for more rapid healing.

Germanium is a powerful mineral in its ability to deliver Negative Ions.

Magnet: Incorporating a therapeutic magnet in the clasp stimulates circulation and signals the brain to send nutrients for healing.

The combination of titanium, germanium and a magnet, balances the body's electromagnetic field and protects against electromagnetic pollution, enhancing the way messages travel along the central nervous system to achieve more efficient functioning on all levels, such as: better mental focus, and a noticeable increase in stamina throughout the day.

Users have reported significant reductions in chronic pain,as well as improved physical balance and strength, better sleep, higher energy levels, and greater mental acuity.

Our X-100 Series™ delivers the maximum benefits of advanced titanium performance technology, providing you with a wide range of benefits:
• Increased core strength.
• Better balance.
• Mental focus.
• Reduced fatigue.
• Increase in alertness and energy.
• Reduced pain in muscles and joints.
• Promotion of a sense of well being.
• Aids against electromagnetic pollution from devices.
Professional athletes have experienced quicker reflex/reaction times and improved overall performance.
"The Quantum Tech X-100 provided an immediate change for the better in my posture/running form.
When I experienced a greatly noticeable delayed onset of fatigue during my speed work...I was sold!
After running for two years without Quantum Tech performance gear, all I can say is...I wish I had found this so much sooner."
- Sabine Pullins, U.S. Champion Marathon Runner
"The Quantum Tech X-100 makes me feel balanced and stable, allowing me to maximize my performance.
More importantly...my results are the best of my career."
- Soren Thompson, U.S. Fencing Champion
Unconditional 30 Day Money Back Guarantee
---
Share this Product
---
More from this collection